Total Solution for Medical Plastic Processing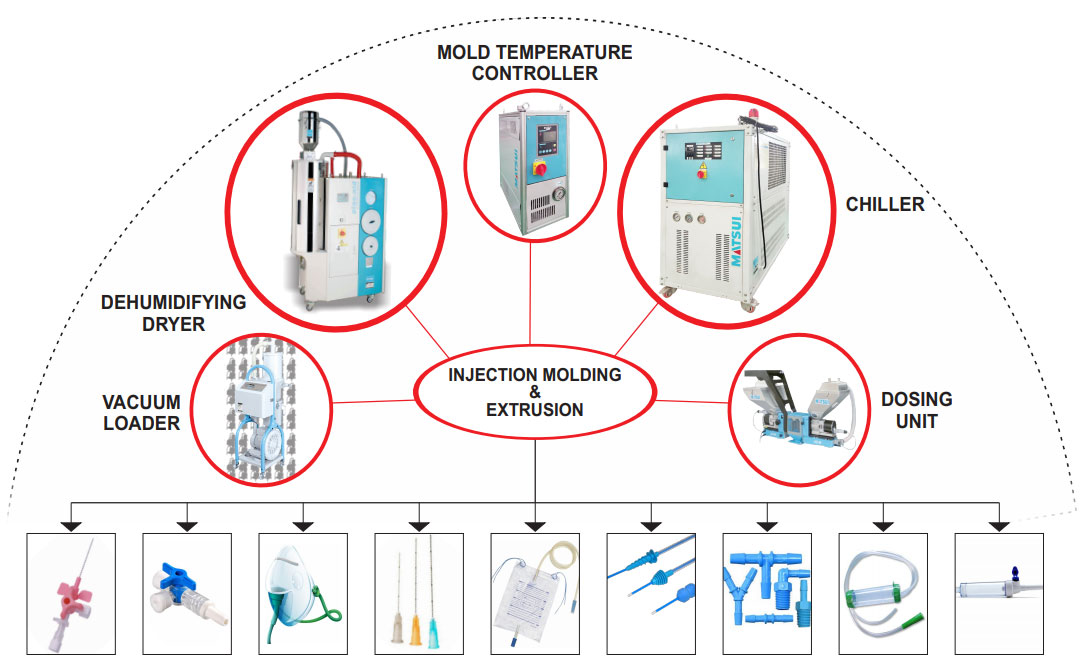 Recent years have witnessed the innovation of plastic used in the medical field that traditional materials cannot achieve. The constant increasing medical expense drives the consumer to seek a more efficient way to lower the cost.
MTIL provides high standard quality equipment with following features:
Low Power Consumption
Eco-Friendly
Value for Money
Global Standard
Drying - MTIL develops many kinds of Dehumidifying Dryers with key features such as 15 Years+ Honeycomb Warranty, Solid Dew Point of -40o C, and Using up to 75% Less Energy, Compact & Portable Design. All material contact surfaces adopt SUS304 stainless steel with polishing, together with the air-tight feeding system; the materials are protected from being polluted and moisture regain.
Mold Temperature Controller - MTIL develops many kinds of Mold Temperature Controller (MTC) with heating temperature ranges from 90℃ to 300℃. Our MTC can meet all the requirements of different plastics processing. It maintain stable Mold temperature at any time, control accuracy can reach ±0.5℃ and high-efficiency high-temperature pumps are optional to meet the requirements of precision Mold and Mold with small diameter molding cycle.
Dosing – MTIL's Volumetric Dosing Unit can be used to dose both crystallized and non-crystallized material. If the precision master batch dosage requirements are important and precise, we recommend the customer to choose our Gravimetric Dosing Unit which adopt loss-in-weight dosing method.
Cooling – MTIL's Water Chillers can achieve accurate control of temperature, flow and pressure, maximized its cooling effect. The cooling products of MTIL consist of Air-Cooled and Water-Cooled Water Chillers. Based on the standard technology, MTIL can provide customized solutions for its customers.
Conveying – MTIL develops Vacuum Loaders with key features such as portable, powerful conveying system (connects up to 6 Hoppers), and removes dust. Portable, powerful and engineered for efficiency, our Vacuum Loaders easily meets the needs of demanding production line.
Blending – MTIL develops Blenders with key features such as intelligent mixing, automatic flow optimization and resin-demand forecasting helps reduce waste up to 99%. It senses changes, automatically adjusts, and keeps production moving as demand changes.